VoIP Solutions
Telephone lines are a thing of the past, having been replaced by Voice over Internet Protocol (VoIP). Instead of having a separate system for telecom, VoIP connects your desk phones, desktop computers, mobile devices, and more with the internet for crystal clear audio that isn't limited to a sinle platform. Our technicians are well versed in determining a business's VoIP needs, implementing solutions, and educating staff.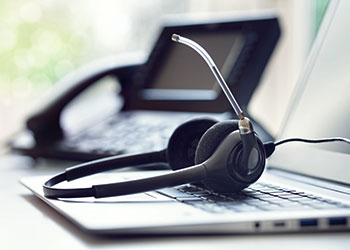 The benefits of VoIP include:
Crisp audio - internet lines allow for more data to be transferred than phone lines, so sound quality is better than traditional phones
Full functionality - get all the features of traditional phones, like voicemail or three-way calling, plus some you can only get with VoIP
Seamless integration - all of the features work on all of the platforms; get extension functionality for mobile devices or transfer a caller from your desk phone to a computer
Reduce costs - since calls are connected over the internet, there are no more exorbitant long distance fees or higher costs for added functionality
Active IT Solutions can install a VoIP system for your business in no time so you can enjoy the benefits of internet telephony and boost productivity.