Server Support
If your business uses its own servers, you know that they are the backbone of your operations. So much relies on servers doing their job, so it's up to you to make sure they stay in working order. Active IT Solutions can help. Put your servers in the care of our experienced engineers with our Server Support plan, which takes care of everything from regular upkeep to lightning-quick requests for support.
If your servers are out of date and require an upgrade, our technicians can help you replace them with faster and more stable ones. Efficient servers facilitate efficient business.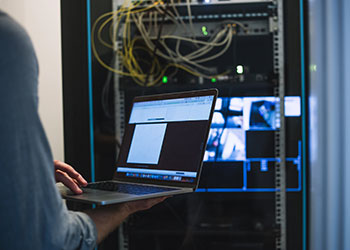 Our server technicians can help you with:
Maintenance - your servers are kept up to date and running smoothly with regular scheduled maintenance, diagnostics, software patches, firmware upgrades, and more
Security and troubleshooting - our technicians monitor your servers for threats and errors, and remain on call to get your business back up and running should an issue arise
Installations and upgrades - first-time servers are installed and set up for you, and old servers are replaced quickly and efficiently to minimize downtime
Changes and alterations - changes in scope or functionality of your servers are handled by our professionals to reduce the risk of error
Don't leave the care and upkeep of your servers to subpar technicians or chance. Get Server Support from the experts at Active IT Solutions.